Events
Quintessential Poets and National Poetry Month
The annual Quintessential Poets reading in honor of National Poetry Month will take place Monday, April 15, 2019, 7 p.m., in the auditorium of the Urbana Free Library. I will be reading with Quints Emily Kerlin, Frank Modica, John Palen, and Karen Steiner.
*******
My poem, "The Phone Psychic," appears in the Octobe 2018 online edition of Bluestem, a literary journal published at Eastern Illinois University.
********
Of Burgers and Barrooms contains the work of 140 contributors and is an unusual array of poetry and fiction on the fast food and drinking scenes. Advance sales offer a discount at : https://mainstreetragbookstore.com/?product=of-burgers-barrooms.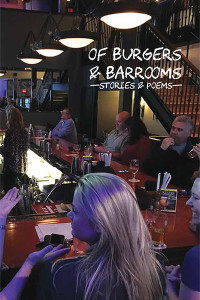 The 40th(2017) Appalachian Writers Workshop, Hindman KY, has released two books: my monograph, The Literary Heritage of Hindman Settlement School, and Piano in a Sycamore: Writing Lesson from the Appalachian Writers' Workshop, edited by Silas House and Marianne Worthington.
I'll be launching my new chapbook, Going Places, at 7:30 p.m. on Friday, December 4, 2015, at the home of John and Lois Palen, Urbana IL. Refreshments served.
Reading With the Quintessential Poets

I'll be giving a poetry reading with three other members of the Quintessential Poets of Champaign-Urbana on Monday, April 27, in the auditorium of the Urbana Free Library, at 7:15 p.m. Mary McCormack, Frank Modica, John Palen and I will read from our work. Please join us for a National Poetry Month event.
My poem, "Driving Near the Kentucky-Virginia Border, Early Autumn, has won first place in the 2015 Clear Creek Writers Poetry Contest.
I have a short story, "We Didn't Know," in the the Journal of Kentucky Studies, v 30 (Sept. 2013) and a personal essay, "Newgrange," in the online journal Literary Mama for August 2014.
March 2014: The latest issue (v. 13.2,) of Big Muddy: A Journal of the Mississippi River Valley, is out. My short story "Taps" is included.
My short story,"Taps," was chosen by novelist Wayne Caldwell to receive the James Still Short Story Prize at the 2013 Mountain Heritage Literary Festival.
I'm pleased to have a poem, "Beautiful Boy," in the winter-spring 2013 issue (#25) of Tipton Poetry Journal. The editors say the journal will transition from print to online with issue #27.
The summer 2013 issue of Now & Then: The Appalachian Magazine, includes my poem, "Appalachian Out-Migration."
I'll be welcoming social work students from the University of Wisconsin-Eau Claire to my home on May 21, 2013, for their first stop on an "Appalimmersion"--Appalachian study experience--that will take them to the Bluegrass and eastern Kentucky. I will read selections from my Appalachian poetry to help frame what they'll be seeing and studying on their trip, which is organized by Dr. Vanda Galen.
Ebertfest 2013: I'll be participating in one of the panel discussions, "Challenging Stigma through the Arts," on Friday April 19, 10:30-11:45 a.m. in the Pine Lounge on the first floor of the Illini Union, U of I campus. Patrick Wang, writer, director, and star of the Ebertfest selection "In the Family," will be a featured panelist.
As part of the Boneyard Arts Festival 2013 in Champaign-Urbana, I'll be reading with other members of the Red Herring Fiction Workshop at Jane Addams Bookshop in downtown Champaign on Saturday, April 13, at 1:00 p.m.
Thanks to Andrew Solomon for including my poem, "Taking the Train," in his latest book, Far from the Tree: Parents, Children, and the Search for Identity (Scribner, 2012). The poem appears in the chapter on Disability.
Downstate Story, a well-known print journal publishing fiction in Illinois, has released its first online issue at www.downstatestory.com. Elaine Hopkins is the editor. My story, "Field Station 134," is included among the selections.
Check out the fall 2012 issue of Still, a literary journal of southern Appalachia, at www.stilljournal.net. My short story, "Incident at Sky High," is published there as a finalist in their fiction contest, won by Jon Sealy. Sheldon Lee Compton was the other finalist.
I will be reading with Lania Knight at Orr Street Studios in Columbia, Missouri, on September 25. Please join us there!
The latest print edition of Bluestem, a literary journal published at Eastern Illinois University, includes my essay, "Practicing Stoicism at Hardee's."

********
Green River Writers Contest



I am sponsoring a category in this 2012 Green River Writers Contest, in honor of my mother: The Rubye Fowler Creative Nonfiction Prize. Check www.greenriverwriters.org for contest guidelines. Deadline is August 30.
It's time for the annual Boneyard Arts Festival in Champaign-Urbana. As usual, the Red Herring Fiction Workshop will be giving a reading as part of the fun. Join us on Saturday, April 21 from 3 to 5 p.m. at the Iron Post in Urbana. Eight writers will read and sell books.

_________________________________
November 2011----I want to thank the literary journal Kestrel for nominating my story, "The Ice Cream Party," for a Pushcart Prize.
All the Livelong Day: An Anthology of Writings About Work, volume three in the motif anthology series from Motes Books, is just out. Edited by Marianne Worthington, it includes poetry and short fiction by many well-known writers. My poem "Worker" appears on page 28.
The Writer magazine's September 2011 issue features a special section, "Keys to a Great Setting." My article, "Draw the Connection between Character & Setting," appears there. Answer 11 key questions in it to "make the most of your story's sense of place."
The winter/spring 2011 issue of Appalachian Journal includes two of my poems, "Carrying the Farm" and "Little Brother."
My short story "Tomato Season" appears in the latest issue of Emrys Journal (vol. 28, 2011).
April 9, 2011, 3-5 p.m.: 
I'll be reading with other members of the Red Herring Fiction Workshop at Das Cafe in Urbana Illinois as part of the annual Boneyard Arts Festival.
I have new work out: A short story, "The Ice Cream Party," appears in Kestrel issue 25. The fall 2010 issue of The Heartland Review includes two poems, "The Folk Artist Explains" and "Breaking Down."
I'll be reading with the Green River Poets at The Bard's Town on Bardstown Road in Louisville on Friday, November 5, 2010.
September 10- 12:2010 
Betty Gabehart Fiction Prize, Kentucky Women Writers Conference, Lexington, Kentucky. Elaine will read her winning short story on Sunday at the conference.


The Red Herring Fiction Workshop of Champaign-Urbana IL meets every Tuesday evening (except major holidays) at 7:30 in the Fireplace Room of the Channing-Murray Foundation, 1209 West Oregon Street, Urbana. Founded in 1980, the workshop is free and open to the public. Participants can bring up to 20 double-spaced pages of prose to read aloud, followed by a group discussion of the work . The only rule is that content cannot be criticized, as this amounts to censorship. We listen to most types of prose except for highly technical academic material.